1152 18th St. NW
1800 M St. NW Garage
About This Facility
Convenient and secure garage in the Golden Triangle. Just a few minutes from the Charles E Smith Athletic Center, Jack Morton Auditorium, and Lisner Auditorium.
Max Vehicle Height: 6'6"
1/4
How to Park
1.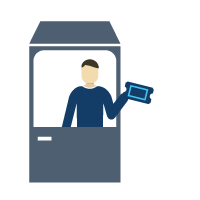 Upon arrival, show your parking pass to the parking staff onsite and pull ticket to park
2.
Upon departure, show ticket and your parking pass to the cashier.