Event Parking For
Cobb's Comedy Club
February 1, 10:00 PM PST
Small Town Murder [Cancelled due to COVID-19]
550 N. Point St.
Holiday Inn Express - Valet Kiosk
About This Facility
This is valet parking at the Holiday Inn Express located in Fisherman's Wharf. The valet booth will be located underneath the awning that says "Holiday Inn Express". Walking distance to Cobb's Comedy Club and Fishermans Wharf.
No oversize vehicles.
1/8
Operated by California Parking
How to Park
1.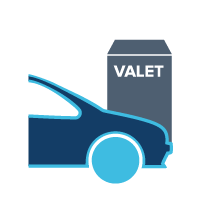 Present parking pass to valet at curbside kiosk in exchange for valet-ticket
2.
If attendant is not at kiosk, please wait as they are parking another vehicle and will return shortly
3.
When you return, present valet-ticket to attendant (tip not included in reservation)