55 Cyril Magnin St.
PARC 55 Hotel - Valet Kiosk
About This Facility
This is valet parking for the PARC 55 Hotel right in the middle of Union Square. Convenient to the Mezzanine and the Moscone Center, this parking is walking distance from the Marines Memorial Theater and the Society Cabaret at the Hotel Rex.
1/5
How to Park
1.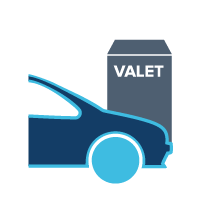 Present parking pass to valet at curbside kiosk in exchange for valet-ticket
2.
If attendant is not at kiosk, please wait as they are parking another vehicle and will return shortly
3.
When you return, present valet-ticket to attendant (tip not included in reservation)