Event Parking For
Cobb's Comedy Club
February 23, 11:00 AM PST
Drag Diva Brunch: Leviosa Mimosa! Wizards and Waffles
495 Jefferson St.
Argonaut Hotel - Valet
About This Facility
Convenient valet parking at the Argonaut Hotel in Fisherman's Wharf. Drivers love the easy access to the Musée Mécanique, Ghirardelli Square, Fisherman's Wharf, and San Francisco Art Institute.
1/4
How to Park
1.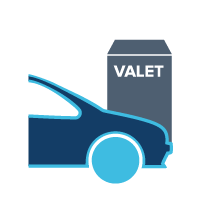 Present parking pass to valet at curbside kiosk in exchange for valet-ticket
2.
If attendant is not at kiosk, please wait as they are parking another vehicle and will return shortly
3.
When you return, present valet-ticket to attendant (tip not included in reservation)