Select the start time and end time
for your booking here.
1350 Sixth Ave.
6th and A Garage
About This Facility
Well-run and secure parking garage near Cortez Hill. Just a short walk to Copley Symphony Hall, House of Blues, and San Diego Civic Theatre.
1/4
How to Park
1.
Pull ticket at the gate and park in any spot not marked "Reserved"
2.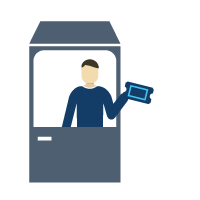 Bring entry ticket and parking pass to the garage office on the second floor to receive your exit ticket