1098 Columbia St.
Columbia Garage
About This Facility
Secure and affordable indoor garage in downtown San Diego. Just a short walk to the San Diego Civic Theatre, Balboa Theatre, and Waterfront Park.
Max Vehicle Height: 8'2"
No In/Out Privileges
1/3
How to Park
1.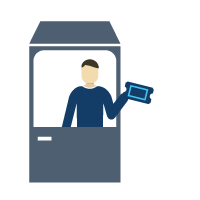 Upon arrival, please stop by the parking office located on the street level during office hours M -F 8am - 5pm
2.
Park in any spot not marked "Reserved"
3.
If your arrival is not during office hours, but you will be leaving during office hours, please stop by the parking office before exiting the garage
4.
If your arrival is not during office hours, and you are leaving before the office opens up, please hit the intercom button when exiting the garage. Inform remote attendant that you have a pass through ParkWhiz and provide your name and parking pass#