Event Parking For
Theater of the Clouds at Moda Center
October 1, 7:30 PM PDT
The Neotheater World Tour: Ajr
1401 SW Naito Pkwy.
Marriott Hotel Parking - Valet Kiosk
About This Facility
Convenient and secure valet service in downtown Portland. Just a short walk to the Keller Auditorium, Tom Mccall Waterfront Park, and Arlene Schnitzer Concert Hall.
This location do not accept anything larger then a F150 or 1500, No Dullies, No Lifted Vehicles, No Extended Cabs.
1/5
How to Park
1.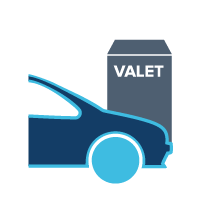 Present parking pass to valet at curbside kiosk in exchange for valet-ticket
2.
If attendant is not at kiosk, please wait as they are parking another vehicle and will return shortly
3.
When you return, present valet-ticket to attendant (tip not included in reservation)