Select the start time and end time
for your booking here.
1728 Sansom St.
1728 Sansom St. Garage
About This Facility
Secure and affordable multi-level garage in Center City. Just a few minutes to the Kimmel Center, Play & Players Theatre, and Curtis Institute of Music.
Max Vehicle Height: 6'5"
Service Attendant Hours Available: Mon-Wed 6am to 10pm | Th-F 6am to 11pm | Sat 7am to 11pm | Sun 7am to 10pm
1/3
Operated by InterPark (Philadelphia) - SP+
How to Park
1.
When you arrive, present your pass to the valet attendant in exchange for valet ticket
2.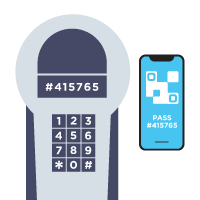 When you return, scan the valet ticket at the pay station kiosk in the lobby and your vehicle will be automatically retrieved
3.
Entering or exiting more than 15 minutes beyond your reserved time will result in additional fees to be paid onsite