Select the start time and end time
for your booking here.
91 N. Raymond Ave.
Cafe Bizou - Valet Kiosk
About This Facility
Convenient and well-run valet parking at the Cafe Bizou in Old Pasadena. Just a few minutes from the Pasadena Civic Plaza and a variety of shops.
A free shuttle will be operating from Parsons at the corner of Union St and DeLacey Ave in Pasadena for all UCLA football games at the Rose Bowl. A shuttle is available for all other events at the Rose Bowl for a fee.
Access hours: Tue-Sun, 11AM to 11AM. Your vehicle may be locked in after hours.
1/4
Operated by Unified Parking Service, Inc.
How to Park
1.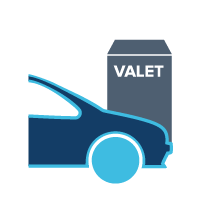 Present parking pass to valet at curbside kiosk in exchange for valet-ticket
2.
If attendant is not at kiosk, please wait as they are parking another vehicle and will return shortly
3.
When you return, present valet-ticket to attendant (tip not included in reservation)