Select the start time and end time
for your booking here.
97 Lafayette St.
97 Lafayette St. Lot
About This Facility
Penn Station, the Gateway Center and the Prudential are just some of the major Newark landmarks within walking distance of this location. Whether you're taking in a sporting event, meeting a colleague or hopping a train into New York City, you're at the center of it all.
Customers are expected to leave within 15 minutes after pass is validated at the kiosk.
Things You Should Know:
Final price will be affected if you enter or exit outside of your selected reservation time.

This facility does not allow in/out privileges. You cannot enter and exit more than once.

Additional fee applies for oversized vehicles. To determine if your vehicle is oversized, click on Oversized Vehicles http://www.parkfast.com/page/oversized-vehicles.

DURING EVENTS, you may be redirected to another ParkFast location near the Prudential Center. Your reservation will be accepted at all ParkFast locations near the Arena.

DURING EVENTS, Redeem your prepaid reservation when you park for a quicker exit. See attendant to redeem.
1/5
Operated by Edison ParkFast
How to Park
1.
At the entrance , push the green button to dispense a ParkFast ticket
2.
Self-park your vehicle in any spot that is not marked "Reserved"
3.
Be sure to lock your vehicle and take the ParkFast ticket with you when exiting the facility
4.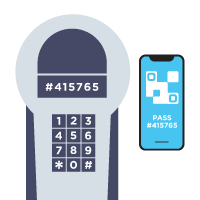 When you return to the facility at the end of your stay, use the self-checkout kiosk at the attendant booth to scan your parking ticket at your ParkWhiz reservation QR code
5.
If there are additional fees incurred (for example, any additional time outside of your prepaid parking reservation) you must pay these fees in full pay station at the attendant booth, otherwise, you will not be able to exit the facility
6.
Follow the exit signs and depart the facility by inserting your ParkFast ticket at the exit gate.