Event Parking For
New Jersey Performing Arts Center
March 2, 8:00 PM EST
Batman in Concert with the New Jersey Symphony
386 Market St.
386 Market St. - Valet
About This Facility
Penn Station, the Gateway Center and the Prudential are just some of the major Newark landmarks within walking distance of this location. Whether you're taking in a sporting event, meeting a colleague or hopping a train into New York City, you're at the center of it all.
If parking overnight, you must drop off and pick up your vehicle within the following hours: Mon-Sat 12am-12am | Sun 5am-4pm.
1/5
Operated by Edison ParkFast
How to Park
1.
Take a ticket as you enter and pull forward to where instructed
2.
Show pass to the attendant
3.
The attendant will confirm your reservation and valet park your vehicle. Be sure to take the ticket you received with you when exiting the facility
4.
Upon departure show the attendant your ticket and pass
5.
Any additional fees incurred (oversize vehicle charges or any additional time outside of your prepaid parking reservation) must be paid before the attendant retrieves your vehicle
6.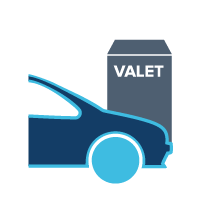 After the attendant retrieves your vehicle you're ready to go