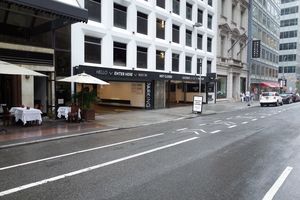 ABM Parking Services
5 E. 54th St.

,

New York

,

NY

10022
ParkWhiz worry-free cancellation (cancel anytime up to your start time)

Special online rate!

Amenities Included:

If you are driving an over-size vehicle (SUV, truck, van, etc.), you must purchase the over-size rate below.
Description
This parking garage is adjacent on one side to an eight-story concrete structure with Rothmann's Steakhouse and Grill on the first floor, with a transparent awning extending from the third to second floor above the restaurant. On the other side, the parking garage is adjacent to a four-story stone structure, with a balcony above the door, along with engraved lettering that reads "Interaudi Bank" in capital letters.

The entrance into the parking garage consists of a gentle incline into the two-lane garage entry proper. There are no obstacles on either side, though it should be noted that the steakhouse may have an outdoor cafe that can get close to the curb.

The parking garage is due west from Sutton Place, northeast of Theater District/Times Square, northwest from Midtown East, and slightly northeast of Hell's Kitchen.
This location is a commercial parking garage.
Nearby destinations: Radio City Music Hall, New York City Center, St. Patrick's Cathedral, Rockefeller Center, The Museum of Modern Art.
Directions
This parking garage is located on the north side of 54th St, between 5th Ave and Madison Ave, across the street from a reflective, brown-colored office tower. One of the entrances to the tower is across the street from the parking garage, and above the entrance is a sign that reads "Jefferies" in gold lettering. Above the garage entrance, the sign reads "Hello," "Enter Here" and "Way In" in white capital letters, with a downward arrow in between the three phrases.