Select the start time and end time
for your booking here.
190 Nielson St.
Hyatt Regency New Brunswick - Valet Kiosk
About This Facility
Quick and courteous valet parking at the Hyatt Regency hotel in downtown New Brunswick. This location is across the street from the Stress Factory and just a short walk to the State Theatre.
Max Vehicle Height: 6'6"
1/4
How to Park
1.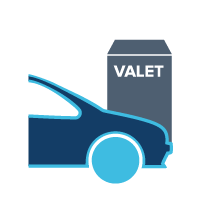 Present parking pass to valet at curbside kiosk in exchange for valet-ticket
2.
If attendant is not at kiosk, please wait as they are parking another vehicle and will return shortly
3.
When you return, present valet-ticket to attendant (tip not included in reservation)