Select the start time and end time
for your booking here.
19 N. 8th St.
Hampton Inn & Suites - Valet
About This Facility
Convenient valet parking at the Hampton Inn & Suites in Central Minneapolis. Just a short walk to the Orpheum Theatre, State Theatre, Pantages Theatre, and Studio B at Skyway Theatre.
Hours of operation: Sunday-Thursday 5AM-11:30PM, Friday and Saturday - 24hrs
No re-entry allowed
Height Clearance: 6' 8"
No oversize vehicle allowed
1/3
How to Park
1.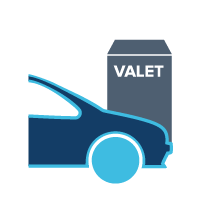 Present parking pass to valet at curbside kiosk in exchange for valet-ticket
2.
If attendant is not at kiosk, please wait as they are parking another vehicle and will return shortly
3.
When you return, present valet-ticket to attendant (tip not included in reservation)