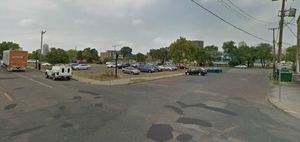 Interstate Parking Company
1500 S. 4th St.

,

Minneapolis

,

MN

55454
This parking does not currently offer online bookings.
Description
This triangular parking lot takes up its entire block. Look for an alley road in between the eastern side of the lot and a two-story white painted brick building with brown-red highlights. Once you enter the alley, you will see a parking attendant booth on a concrete island in the road leading into the lot proper. Look for with Interstate Parking Company signage, including a black sign with white text at the corner which reads "Public Parking" on one side and displays the Interstate Parking Company Logo on the other.

For information on an affordable train ride from the West Bank Station & Platform to TCF Bank Stadium, please go to www.metrotransit.org/vikingsTCF . Please keep in mind that this train requires a fee for passengers.
This location is a commercial parking lot.
Nearby destinations: The Cedar Cultural Center, 400 Bar.
Directions
The entrance to this open-air parking lot is located on the north side of S 4th St, in between S 15th Ave to the west and Cedar Ave to the east; the entrance is across the street from the concrete Riverside Plaza towers.

This parking lot is located in the Minneapolis neighborhood of Cedar-Riverside.