Select the start time and end time
for your booking here.
6372 Sunset Blvd.
Stella Barra - Valet Kiosk
About This Facility
This is valet parking for Stella Barra Pizzeria! Located in Hollywood, this will leave you a block away from the Cinerama Dome and Arc Light. The valet stand will be located outside of the restaurant.
Operated by California Parking Services
How to Park
1.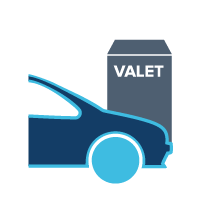 Present parking pass to valet at curbside kiosk in exchange for valet-ticket
2.
If attendant is not at kiosk, please wait as they are parking another vehicle and will return shortly
3.
When you return, present valet-ticket to attendant (tip not included in reservation)