Event Parking For
Dolby Theatre
October 23, 2:00 PM PDT
My Fair Lady [Rescheduled due to COVID-19]
1755 N. Highland Ave.
Loews Hollywood Hotel - Valet Kiosk
About This Facility
Secure and affordable valet parking at the Loews Hollywood Hotel in downtown Hollywood. Just a few minutes to the Dolby Theatre, Hollywood, Highland Centre, and Pantages Theater.
Please ensure that you enter into the front drive of Loews Hollywood Hotel and not the parking structure next door.
Max Vehicle Height: 6'6"
1/3
How to Park
1.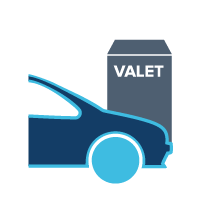 Present parking pass to valet at curbside kiosk in exchange for valet-ticket
2.
If attendant is not at kiosk, please wait as they are parking another vehicle and will return shortly
3.
When you return, present valet-ticket to attendant (tip not included in reservation)