Select the start time and end time for your booking here.
180 Aragon Ave.
Westin Colonnade - Valet Kiosk
1/4
User Ratings
This is valet parking for the Coral Gables Westin Colonnade Hotel. The hotel takes up most of the northern section of its block, aside from a Sushi Samba location at the corner. The hotel itself is an eight-story concrete and stone-block building, with green-accented lattice windows and aqua colored awnings. Look for a large aqua awning over the entrance that reads "The Westin Colonnade" in white text, along with bronze plaques on stone columns on either side of the entrance that read "The Colonnade Hotel" in black letters. Please pull up to the hotel to meet with a valet.
How to Park
1.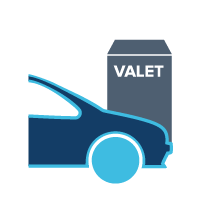 Present ParkWhiz Pass to valet at curbside kiosk in exchange for valet-ticket
2.
If attendant is not at kiosk, please wait as they are parking another vehicle and will return shortly
3.
When you return, present valet-ticket to attendant (tip not included in reservation)