Select the start time and end time
for your booking here.
922 W. Washington Blvd.
Alley Entrance - Circa 922 Garage
About This Facility
Convenient and affordable residential parking garage in West. Located near the Ogilvie Transportation Center, Union Station, and Bottom Lounge.
Parking in the first garage will result in the vehicle being towed. No oversized vehicles permitted violators will be towed at owners expense.
If you are having issues accessing the garage, please call our ABM customer service line so we can remotely open the door: 312-541-6351
Max Vehicle Height: 6'6"
1/6
Operated by ABM Parking Services
How to Park
1.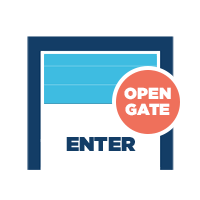 Open garage door by clicking "Open Gate" at the top of your pass
2.
Park in any spot not marked "Reserved"
3.
For pedestrian entry, click the QR link on your pass and hold your QR code under the black reader for 3 seconds
4.
Upon departure, drive to the exit and the gate will lift up for you