Select the start time and end time
for your booking here.
1639 S. Wabash Ave.
Acadia Restaurant - Valet Kiosk
About This Facility
Affordable valet service in the South Loop. Easy to locate, but drivers warn service can get slow during peak business hours. This parking option is intended exclusively for patrons of this business establishment.
1/3
Operated by River North Parking, Inc
How to Park
1.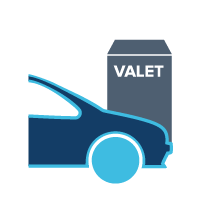 Present parking pass to valet at curbside kiosk in exchange for valet-ticket
2.
If attendant is not at kiosk, please wait as they are parking another vehicle and will return shortly
3.
When you return, present valet-ticket to attendant (tip not included in reservation)