Select the start time and end time for your booking here.
77 E. Adams St.
Seven Lions - Valet Kiosk
1/7
Operated by Valet Parking Authority
User Ratings
Convenient valet service at the Seven Lions restaurant in the Loop. Just a few minutes from the Art Institute of Chicago, CIBC Theatre, and Congress Theatre. Firearms are not permitted. The operator reserves the right to refuse any vehicle containing firearms or ammunition. Please park within the timeframe on your pass. Parking outside your timeframe will incur additional fees.
How to Park
1.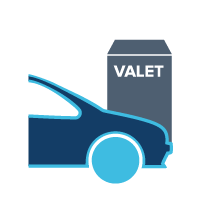 Present parking pass to valet at curbside kiosk in exchange for valet-ticket
2.
If attendant is not at kiosk, please wait as they are parking another vehicle and will return shortly
3.
When you return, present valet-ticket to attendant (tip not included in reservation)