Select the start time and end time
for your booking here.
113 N. Wells St.
120 N. LaSalle St. Garage - Valet
About This Facility
Secure and affordable valet parking in the Chicago Loop. Just a few minutes from the Goodman Theatre, Cadillac Palace Theater, and Civic Opera House.
Max Vehicle Height: 6'5"
NOTE: This facility is self-park on the weekends and offers self-park assistance and valet options during weekdays.
For security purposes, the garage is only accessible through the building doors located on N Lasalle St by taking the elevators to the 3rd level of the garage.
The garage is open 24/7. After normal business hours, the overheads are closed. The vehicle must approach the doors for the photo eye to activate it to open.
If parking overnight, you must drop off and pick up your vehicle within the following hours: Mon-Fri 5:30am-9:00pm, Sat-Sun 12am-12am
1/9
How to Park
1.
Scan pass at entrance and collect all tickets that are dispensed
2.
Present tickets and keys to valet attendant in exchange for valet ticket
3.
Upon returning to the garage, take the elevator to the 3rd Floor
4.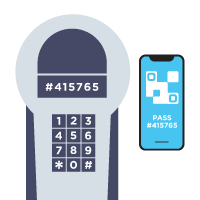 Redeem valet ticket at the Self-Pay Kiosk to request your vehicle
5.
Present ticket to valet attendant.