Select the start time and end time
for your booking here.
1031 N. Rush
Tavern on Rush - Valet Kiosk
About This Facility
Prompt and courteous valet service in Chicago's Gold Coast. Just a short walk to the Oak Street Beach, Hancock Building, and Water Tower Place.
1/3
How to Park
1.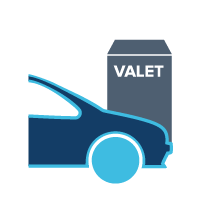 Present parking pass to valet at curbside kiosk in exchange for valet-ticket
2.
If attendant is not at kiosk, please wait as they are parking another vehicle and will return shortly
3.
When you return, present valet-ticket to attendant (tip not included in reservation)