Select the start time and end time
for your booking here.
445 Albee Square W.
Willoughby Operating Company, LLC - Cielo Garage @ City Point - Valet Kiosk
About This Facility
Easy and convenient valet parking at the City Point in downtown Brooklyn. Also accessible to Invisible Dog Arts Center and Barclays Center.
The valet kiosk at 445 Albee Square West operates 3pm-10pm on Mon-Thu, and Noon to 10pm on Fri-Sun. If you stay beyond valet close, you will be required to pick up your vehicle from 189 Schermerhorn St.
Operated by Willoughby Operating Company, LLC
How to Park
1.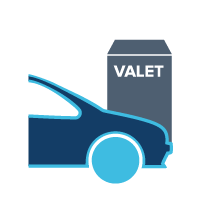 Present parking pass to valet attendant in exchange for valet-ticket
2.
Pick up your car at 670 Pacific St (one block from the Barclays Center)