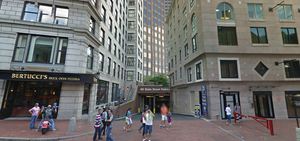 60 State Street Garage
60 State St.

,

Boston

,

MA

02109
Parking not available for that time. Please select a different time or try a different location.
Description
The entrance to this parking garage is next to a seven-story white stone building with unusual window shapes on one side, and an 11-story building housing Bertucci's restaurant on the other side. The garage entrance is made of brick, and includes a stairway on top of it. Look for large white lettering that says "60 State Street Parking" above the parking entrance, along with pole holding a blue sign with a white "P" next to the entrance.

Managed by LAZ Parking (Boston). This location is a commercial parking garage.
Nearby destinations: Boston City Hall Plaza, Hilton Boston Downtown/Faneuil Hall, Barclays Capital, Millennium Bostonian Hotel, The Langham.
Directions
The entrance to this parking garage ("60 State Street Parking") is located on Chatham St, right at the intersection of Chatham St and Merchants Row; the entrance is across the street from the four-story brick and stone building that houses Clarke's restaurant.

Please be advised that both Merchants Row and Chatham St are one-way streets.

This parking garage is located slightly southeast of Boston's Government Center neighborhood, and due north of the Financial District.