Select the start time and end time for your booking here.
125 Brookline Ave.
Marriott Residence Inn - Valet Kiosk
1/3
Operated by VPNE Parking Solutions
User Ratings
The valet lobby entrance to the Marriot is next to a Bar Louie location with black awnings, located in the same seven-story structure; the first two floors are off-white stone while the upper five floors are made of brown brick. Look for a red-and-gray awning over the lobby, with a sign that reads "Residence Inn Marriott" in red above it.
How to Park
1.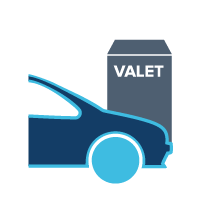 Present ParkWhiz Pass to valet at curbside kiosk in exchange for valet-ticket
2.
If attendant is not at kiosk, please wait as they are parking another vehicle and will return shortly
3.
When you return, present valet-ticket to attendant (tip not included in reservation)