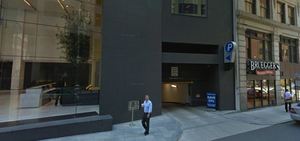 LAZ Parking - Keys Held
100 High St.

,

Boston

,

MA

02110
ParkWhiz worry-free cancellation (cancel anytime up to your start time)

Amenities Included:

Upon arrival, pull a ticket and park in any spot that does not say rerved;. Before departing the location, stop by the garage office on P1 to show attendant your printed ParkWhiz parking pass and ticket that was pulled upon entrance for validation. When exiting the garage, please insert the ticket you pulled upon entry followed by the validated parking ticket. You will need to insert both tickets in order to exit.

Customers cannot enter before 6PM Monday - Friday or they will be charged the posted 24 hour rate. If no attendant is in the garage office, please take the elevator to the building lobby (Mon-Fri 8:30pm-8:30am and weekends) and give the ParkWhiz parking pass to the Security staff for validation.
Description
The entrance to this parking garage is next to a Bruegger's Bagels location on one side, and the circular glass entrance to the 100 High St building on the other. Look for a sign with a white "P" in a blue circle that faces oncoming traffic and points to the garage entrance, along with a yellow bar with black stripes, directly above the entrance. When retrieving your car to exit, please enter the building from the entrance at 100 High Street.

Note: This location is valet and self-park. Depending on capacity, you may need to leave your keys with the valet.

Managed by LAZ Parking (Boston). This location is a commercial parking garage.
Nearby destinations: Hilton Boston Downtown/Faneuil Hall, Barclays Capital, Marriott's Custom House, South Station Garage, Boston National Historical Park.
Directions
The entrance to this parking garage is located on the northern side of High St, a few doors west of the intersection of High St and Congress St; the entrance is across the street from an off-white skyscraper with wave-like architecture and a golden "99" at the front. This location offers both self-park and valet depending on capacity.

Please be advised that High St is an eastbound, one-way street.

This parking garage is located slightly southeast of Boston's Downtown neighborhood.