ORPHEUM THEATRE - MINNEAPOLIS PARKING
Your space is waiting.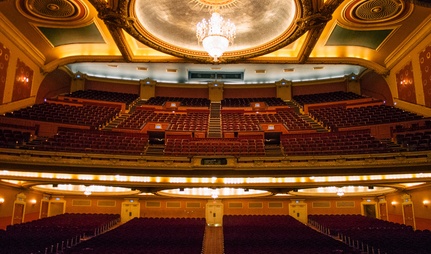 910 Hennepin Ave., Minneapolis, MN, 55403
Book now and spend more time on the fun.
BROWSE ALL EVENTS
About Orpheum Theatre - Minneapolis
The Orpheum Theatre in Minneapolis is a gem from the past, the dust and sands of time removed so that its brilliance can once again shine in the sun. The theatre is a majestic Beaux Arts-style edifice, playing the most popular Broadway shows, with the result often making it hard to find Orpheum Theatre parking spaces in Minneapolis. The Orpheum is a survivor from the last years of vaudeville, when radio and cinema took preeminence over live entertainment. The theatre still functions quite well as a modern venue despite being close to a century old, providing a spacious vessel for soulful musicals.
When the Orpheum first opened in October 1921, it had a rather different function than it currently does, along with a different name. Known at that time as the Hennepin Theatre, the auditorium served the genre known as vaudeville, which ranged from musical acts to acrobatics, comedies and dances and a myriad variety of smaller acts, all listed under the same playbill despite little or no relation between them. Vaudeville came to the fore in the last few decades of the 19th century, with the Minneapolis Orpheum opening only shortly before it lost its appeal. Like other theaters, the Orpheum had to adapt to the changing tastes of America, so it became a cinema house. This brought it success, with films such as Gone With the Wind selling out three weeks in a row.
The Minneapolis Orpheum began putting on modern musicals such as Fiddler on the Roof by about 1959, in addition to award-winning films. By 1988, the theater was owned by Bob Dylan and his family, which they sold to the city of Minneapolis, which began to restore the building, which was complete by 1993. The Orpheum has a capacity of 2,579 split between two levels of seating, the auditorium ceiling colored in whorls of golden yellow, muted red and a lazy light blue, with grand chandeliers in the confluences, and aluminium leaf molding here and there. Past performances include The Lion King, Miss Saigon, Victor/Victoria and AIDA. Minneapolis Orpheum Theater parking may be hard to find on Hennepin Avenue, so booking MN Orpheum parking spaces with ParkWhiz is the best way to get to the show.
ParkWhiz is easy; all you need to do is find the show that you want to see, book your MN Orpheum Theatre parking spot, print out your ParkWhiz parking pass and enjoy the show!
Minneapolis parking at other popular destinations:
Looking for Vikings parking? Vist our Minnesota Vikings at US Bank Stadium page!
DISCOVER
AMAZING
SPACES
Find parking anywhere, for now or for later
Compare prices & pick the place that's best for you
Find parking anywhere, for now or for later
Compare prices & pick the place that's best for you
RESERVE
PREPAY
& SAVE
Book a space in just a few easy clicks
Save up to 50% off standard rates
Book a space in just a few easy clicks
Save up to 50% off standard rates
DRIVE
ARRIVE
& PARK
Enter easily with your mobile parking pass
Your space is waiting – pull in and go do your thing
Enter easily with your mobile parking pass
Your space is waiting – pull in and go do your thing
GET TO KNOW US
BETTER FOR BUSINESS
LET US HELP YOU
WE'RE SOCIAL
USA