MADISON SQUARE GARDEN PARKING
Your space is waiting.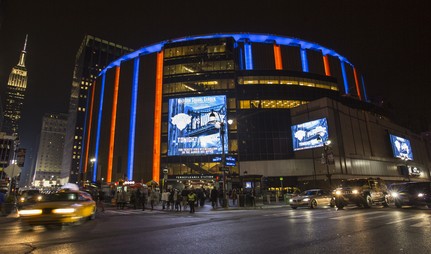 4 Pennsylvania Plaza, New York, NY, 10001
Book now and spend more time on the fun.
BROWSE ALL EVENTS
About Madison Square Garden
Madison Square Garden is located at the center of the universe. Tucked in midtown Manhattan, drivers scour the wild traffic for any MSG parking they can find. They're usually looking for Knicks parking or Rangers parking, as it's those hometown franchises headline at the World's Most Famous Arena.
Anyone who performs here joins the likes of Kanye West, Adele, Elton John, Michael Jackson, and Beyonce. Of course, there's much more to MSG than music, hockey, and basketball. Madison Square Garden is a destination for the world's most famous acts. The first Joe Frazier-Muhammad Ali throwdown took place here before the boxing scene sold out for Las Vegas. And for our canine friends, Madison Square Garden hosts the Westminster Kennel Club Dog Show.
The celebrated New York venue has no shortage of historical significance. As teams throughout the country continue to scrap and demolish their arenas in exchange for new ones, MSG stands firm. Still alive and well, this version of Madison Square Garden opened in 1968. It's currently the second-oldest NBA venue and the oldest in the NHL. Creeping up on its 50th anniversary, the Garden got a mini-facelift in 2011, timed to stretch over three basketball and hockey off-seasons. Now patrons have an updated video board, better seating options and better entrances, giving the vintage arena a few modern touches.
The Knicks have had their ups and downs on the court, but they've always drawn a crowd, putting up top-10 attendance numbers in the NBA season after season. The Rangers' have slightly smaller numbers, ranking more in the middle of the pack in the NHL. But supporters who think they're only competing with fellow fans for New York parking are living in a dream world. You won't find a more crowded piece of land than Manhattan, which makes New York county the densest in the United States. Get ahead of the crowd with ParkWhiz and let us help you find your Madison Square Garden parking.
New York City parking at other popular destinations:
DISCOVER
AMAZING
SPACES
Find parking anywhere, for now or for later
Compare prices & pick the place that's best for you
Find parking anywhere, for now or for later
Compare prices & pick the place that's best for you
RESERVE
PREPAY
& SAVE
Book a space in just a few easy clicks
Save up to 50% off standard rates
Book a space in just a few easy clicks
Save up to 50% off standard rates
DRIVE
ARRIVE
& PARK
Enter easily with your mobile parking pass
Your space is waiting – pull in and go do your thing
Enter easily with your mobile parking pass
Your space is waiting – pull in and go do your thing
GET TO KNOW US
BETTER FOR BUSINESS
LET US HELP YOU
WE'RE SOCIAL
USA