JACOB K. JAVITS CONVENTION CENTER PARKING
Your space is waiting.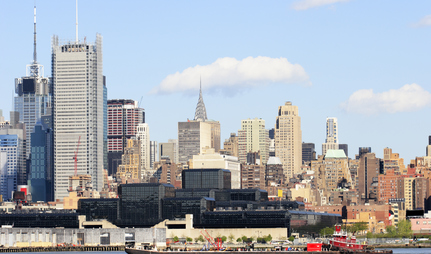 655 West 34th Street, New York, NY, 10001
Book now and spend more time on the fun.
BROWSE ALL EVENTS
About Jacob K. Javits Convention Center
When a popular event is happening in New York City, in many cases it is hosted at the Jacob K. Javits Convention Center. Opening to the general public in 1986, the Javits Center offers 675,000 square feet of space for events, conventions, trade fairs and enthusiast meetups. With all that space available, events are often large, making it hard to find Jacob Javits Center parking unless it is booked in advance. Named after the late New York Senator of the same name, the facility recently underwent an expansion. Though smaller than what was originally planned, the modifications are still significant, including Javits Center North.
The impetus for the Javits Center's construction was the early obsolescence of the New York Coliseum, which up until the Center's construction, was the main convention center in New York City. The first replacements were proposed in 1962 at varying locations throughout the city. Plans for the convention center often fell through, mostly due to the number of citizens that would have to be relocated if such a large venue was built. Plans were made for a convention center on 44th St, but as a result of the near-bankruptcy of the city in 1975, the site that was eventually settled on is the current location in between 34th and 40th Streets on 11th Ave.
The architect of the Javits Center was Ingo Freed, part of I.M. Pei and Partners. The structure makes use of space frames, which are similar to trusses made up of interlocking pyramids and other geometric shapes, often made from steel or aluminum struts. The Javits Center uses them throughout the building's exterior, although this has proven to be controversial for aesthetic reasons.
An expansion project was announced in 2006 that would have increased the size of the convention center by 45% at a cost of $1.7 billion. That soon ballooned to $5 billion so instead a simpler $465 million developed. This proceeded with construction beginning on Javits Center North. Even before the renovation was complete, Governor Cuomo proposed demolishing the building soon after a proposed larger convention center was constructed. Other plans under consideration include the idea of making the convention center a part of a casino complex that connects with Pier 76. No matter what it turns out to be booking NYC Convention Center parking spots in advance with ParkWhiz is the best solution.
ParkWhiz is easy; all you need to do is find your event, book your Javits Convention Center parking spot and print out your ParkWhiz parking pass.
New York City parking at other popular destinations:
DISCOVER
AMAZING
SPACES
Find parking anywhere, for now or for later
Compare prices & pick the place that's best for you
Find parking anywhere, for now or for later
Compare prices & pick the place that's best for you
RESERVE
PREPAY
& SAVE
Book a space in just a few easy clicks
Save up to 50% off standard rates
Book a space in just a few easy clicks
Save up to 50% off standard rates
DRIVE
ARRIVE
& PARK
Enter easily with your mobile parking pass
Your space is waiting – pull in and go do your thing
Enter easily with your mobile parking pass
Your space is waiting – pull in and go do your thing
GET TO KNOW US
BETTER FOR BUSINESS
LET US HELP YOU
WE'RE SOCIAL
USA