GRANT PARK PARKING
Your space is waiting.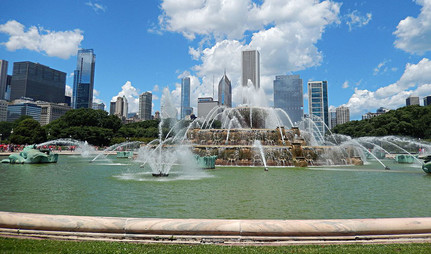 337 E. Randolph St., Chicago, IL, 60602
Book now and spend more time on the fun.
BROWSE ALL EVENTS
About Grant Park
Every city needs a place for its citizens to relax amid greenery. New York is most famous for its sprawling Central Park. Chicago isn't far behind, with Grant Park parking on the shore of Lake Michigan. The idea for a large, open park like its cousin in New York City has been in place since the 19th century. In both cases, these areas of greenery and tranquility had to be protected from developers and corruption by concerned citizens. In both cases, the parks have survived such that they are integral parts of their respective cities in the modern age. In order to understand how Grant Park is Chicago's "Front Yard," a little history is required.
The area that became Grant Park was first protected from development early in the history of Chicago. The area was first mentioned while planning the town of Chicago with the land east of Michigan Avenue specifically left vacant and unused. The land that now makes up Grant Park became a public park by order of the city in 1844, and was called Lake Park.
Over time, the city reclaimed land on the waterfront and incorporated this land into the park. While railroad tracks were run in what would eventually become Millennium Park, the vast majority of the park was protected. The current name took hold in 1901, the title in honor of Union General and eventual President Ulysses S. Grant.
Millenium Park was one of the most recent additions to Grant Park, opening to the public in 2004. The area was originally the site of a right-of-way owned by the Illinois Central Railroad. But after the city of Chicago purchased air rights over the train tracks 1997, work began on an impressive project. An underground parking garage was built over the tracks, with the park directly on top, creating a green roof.
In addition to Millenium Park, Grant Park is home to the Buckingham Fountain, the Lurie Garden, Daley Park and the Petrillo Music Shell. In addition, there are several public art exhibits and monuments, along with the Museum Campus buildings. Grant Park is also a venue for yearly events such as the Chicago Blues Festival, Lollapalooza and the Taste of Chicago. Finding a Grant Park parking spot is difficult in the busy Chicago Loop. If you use ParkWhiz, you can chill out at the park without being left out in the cold.
ParkWhiz allows any Grant Park visitor to book a parking spot before his event, and not worry about having to compete with thousands of others. All you need to do is find Grant Park on ParkWhiz, print your pass and bring it with you. After you present your ParkWhiz parking pass to a parking facility attendant, you can park and then enjoy your day by Chicago's lakeshore!
Chicago Parking for other Parks:
The 2014 Chicago Marathon is on October 12, so find Chicago Marathon parking here at ParkWhiz.
Chicago Parking for other popular destinations:
Photo by swimfinfan from Chicago (Blackhawks Rally @ Grant Park 6/28/2013) [CC BY-SA 2.0 (http://creativecommons.org/licenses/by-sa/2.0)], via Wikimedia Commons
DISCOVER
AMAZING
SPACES
Find parking anywhere, for now or for later
Compare prices & pick the place that's best for you
Find parking anywhere, for now or for later
Compare prices & pick the place that's best for you
RESERVE
PREPAY
& SAVE
Book a space in just a few easy clicks
Save up to 50% off standard rates
Book a space in just a few easy clicks
Save up to 50% off standard rates
DRIVE
ARRIVE
& PARK
Enter easily with your mobile parking pass
Your space is waiting – pull in and go do your thing
Enter easily with your mobile parking pass
Your space is waiting – pull in and go do your thing
GET TO KNOW US
BETTER FOR BUSINESS
LET US HELP YOU
WE'RE SOCIAL
USA