AMBASSADOR THEATRE PARKING
Your space is waiting.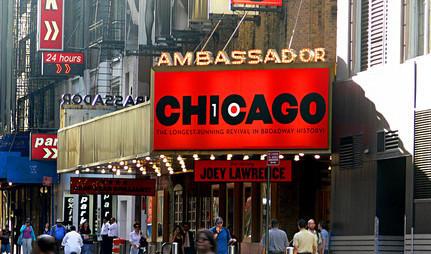 219 West 49th St, New York, NY, 10019
Book now and spend more time on the fun.
BROWSE ALL EVENTS
About Ambassador Theatre
There are many Broadway theatres in Manhattan, but only one has a hexagonal auditorium. Located on a small, thin block at 219 W 49th St, the Ambassador Theatre is one of the gems of the Schubert chain, currently playing only the musical Chicago. Due to the compactness of Manhattan, it is imperative to book an Ambassador Theatre parking space in advance.
The Schuberts constructed the Ambassador in 1921 during their postwar boom. The architect on the project was Herbert J. Krapp, known for constructing several theatres. While most theatres have sufficient space to follow a conventional floor plan, the Ambassador didn't have that luxury due to the plot being very narrow. Krapp was crafty, however, and found a way around it, such that the structure is diagonally placed on the lot, with the auditorium itself being hexagonal in shape. The stage is much wider as a result, allowing a good view from most anywhere in the theatre.
When the theatre opened during the Roaring Twenties, it showed a large number of operettas, but occasionally showed dramatic pieces as well. Notably, it premiered a production of The Great Gatsby in 1926, shortly after the book came out. The Shubert Organization conveyed its interest in the theater for a time, starting in 1935. During this period the Ambassador functioned as a movie theatre, a radio and television studio and other functions, only occasionally hosting plays. The Shuberts regained their interest in 1956, which their organization has held to this day.
The auditorium has three levels, with a capacity of around 1,100. While it currently shows only Chicago as it has since 2003, it has in the past shown You're a Good Man, Charlie Brown, Topdog/Underdog and Fool Moon, among others. The auditorium has burgundy-red seats, an ornate ceiling decoration, sparklingly luminescent chandeliers and hints here and there of a classical theme. With so little space on Manhattan, finding Ambassador Theatre parking may be hard to find, so booking Ambassador Theater parking spaces with ParkWhiz is the best way to get to the show.
ParkWhiz is easy; all you need to do is find the show that you want to see, book your Ambassador Theatre parking spot, print out your ParkWhiz parking pass and enjoy the show.
New York City parking at other popular destinations:
DISCOVER
AMAZING
SPACES
Find parking anywhere, for now or for later
Compare prices & pick the place that's best for you
Find parking anywhere, for now or for later
Compare prices & pick the place that's best for you
RESERVE
PREPAY
& SAVE
Book a space in just a few easy clicks
Save up to 50% off standard rates
Book a space in just a few easy clicks
Save up to 50% off standard rates
DRIVE
ARRIVE
& PARK
Enter easily with your mobile parking pass
Your space is waiting – pull in and go do your thing
Enter easily with your mobile parking pass
Your space is waiting – pull in and go do your thing
GET TO KNOW US
BETTER FOR BUSINESS
LET US HELP YOU
WE'RE SOCIAL
USA