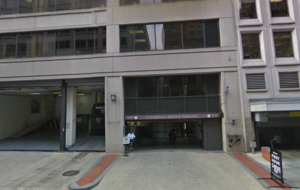 Indiana Avenue Parking
625 Indiana Ave. NW.

,

Washington

,

DC

20004
This parking does not currently offer online bookings.
Description
This covered parking garage is in the rear of the building that houses the US Court of Appeals. We are conveniently located 2 blocks south the Verizon Center.
Vehicle height restriction: 78 inches

Managed by Central Parking (WDC). This location is a commercial parking garage.
Nearby destinations: Verizon Center, Sidney Harman Hall, Newseum, Shakespeare Theatre Company, Hotel Monaco.
Directions
This parking garage is located in the triangle block bound by Indiana Ave NW to the south, 7th St NW to the west, and D St NW to the north. The entrance is on the south side of D St directly lined up with the alley on the adjacent block. Look for a green sign that reads "625 Indiana Avenue Parking" in white lettering overhead.