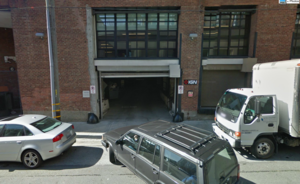 625 2nd St. Building
38 Colin P Kelly Jr St.

,

San Francisco

,

CA

94107
This parking does not currently offer online bookings.
Description
The red brick building that houses the garage entrance is adjacent to a beige stone building on one side, and a three-story gray-block building with a stylized black cat on the other. At the garage entrance, there is a utility pole on one side of the incline into the garage, but otherwise no obstacles. A car charging station is also available in the garage.

This is a covered parking garage just off of The Embacadero and about 2 blocks north of AT&T Park.

Managed by Ace Parking. This location is a commercial parking garage.
Nearby destinations: AT&T Park, La Briciola, Saison, Koh Samui & The Monkey, Tres Tequila Lounge & Mexican Kitchen.
Directions
The entrance for this garage is located at 38 Colin P Kelly Jr St, in between Brannan St and Townsend St, across the street from the meeting of the edges of a dark beige garage and a four-story building with pink and red stone.

Travelling northeast on Brannan St, pass the intersection with 2nd St and make a right on Colin P Kelly Jr St; the garage will be on your right-hand side, midway through the block. Look for a red brick building with three prominent black-painted fire escapes above a garage entrance. To the right of the door, the garage should have a black logo with the letters "IGN" in white capital letters.