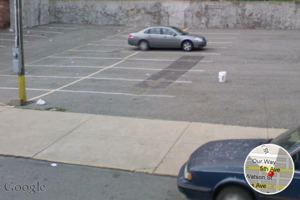 Uptown Parking - Middle Lot
1707 5th Ave

,

Pittsburgh

,

PA

15219
This parking does not currently offer online bookings.
Description
This open-air parking lot is adjacent to a three-story light red brick building to the west, while a darker red brick building is directly east of it. The side of the eastern building facing the lot is painted white. There is a iron fence around the lot in front and a chain-link fence in back. Both entrances to the lot are on Fifth Ave.

Managed by Salvatore Services, LLC. This location is a commercial parking lot.
Directions
This open-air parking lot is located on the left-hand side of the intersection of Dinwiddie St and Fifth Ave, across the street (Fifth Ave) from Sam's Market, a brick building with a slanted black roof. Travelling west on Fifth Ave (a one-way street), pass the intersections with Dinwiddie St and Miltenberger St; the entrance to the lot will be on your right-hand side before the intersection of Fifth Ave and Van Braam St. Look for the white attendant box with bluish-grey trim.