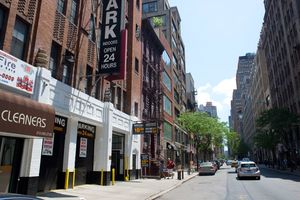 Park-it Management
241 W. 26th St.

,

New York

,

NY

10001
ParkWhiz worry-free cancellation (cancel anytime up to your start time)

Amenities Included:

A $7.00 charge for minivans, Jeeps's and small Suv's will apply. Additionally $10.00 will be charged for mid-size Suv's and small pick ups. Lastly, $15.00 will apply for vehicles such as Suburbans, Tahoes, Vans, Pick-ups and Large Suv's.
Directions
This parking garage is located on the block of W 26th Street between 8th Avenue and 7th Avenue. Travelling east on W 26th St, pass the intersection at 8th Ave; the entrance to the garage will be on your left-hand side of the street. The entrance is adjacent to the Cleaners business with orange awnings on one side, and a red brick building with a prominent fire escape on the other. The entrance is denoted by yellow posts and a large, vertical "park" sign with white text in all capital letters and a black background.

*Note: A $10.00 charge for over-sized vehicles will apply.