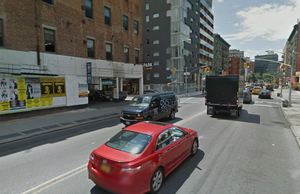 Buzz Parking & Management Corp.
14 Kenmare St.

,

New York

,

NY

10012
This parking does not currently offer online bookings.
Description
This garage located on the intersection of Kenmare St. and Elizabeth is accessible on both streets to enter the garage and leave your care with valet. A "Park 24 HRS" is placed on both streets corners to easy identify your location. This facility is located about two minutes away from the Bowery Ballroom

Minivan/SUV/Luxury ADD $10.
Oversize vehicles & Full size vans ADD $15.
Vehicle height restriction: 78 inches

Managed by Parking Management. This location is a commercial parking garage.
Nearby destinations: Bowery Ballroom, Gatsby's, Canal Street, Canal Street Station, Happy Ending.
Directions
The garage is located on the intersection of Kenmare St and Elizabeth. Look for the Simply Ecofriendly store across the street on Kenmare St or Xicala Wine Bar on Elizabeth to help located parking garage. Look for the large "Park 24 HRS" sign on either Kenmare or Elizabeth for access to the garage