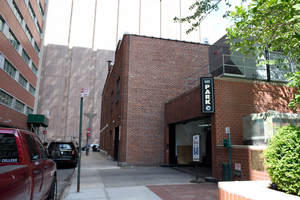 MPG Parking
105 Duane St.

,

New York

,

NY

10007
This parking does not currently offer online bookings.
Description
This covered parking garage is positioned next to a brick building. Across the street (Trimble) is a large office building with a sign for "The State Insurance Fund" in large silvery letters. The garage is situated approximately four blocks north of New York City Hall and less than one block west of Broadway.
Vehicle height restriction: 72 inches
This location is a commercial parking garage.
Nearby destinations: Santos Party House, The Flea Theater, City Hall Park, Tribeca Performing Arts Center, City Hall Restaurant.
Directions
This parking garage entrance is on the east side of Trimble Pl, between Duane St and Thomas St. While driving east on Duane St, turn left onto Trimble Pl, and then the entrance will be immediately on your right. The parking location is a red brick building with a gently sloping entrance into the below-ground garage. Look for a vertical black "MPG Park" sign with white letters.