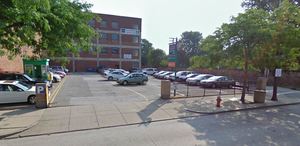 Shaia's Parking
2231 E. 9th St.

,

Cleveland

,

OH

44115
This parking does not currently offer online bookings.
Description
This is a medium-sized commercial parking lot. A short black fence separates the lot from the sidewalk on Eagle Ave and Erie Ct. We are right across the street from Progressive Field, and just a few blocks from Quicken Loans Arena.
This location is VERY close to the ball field and arena. Do to its close proximity, this location fills up early. We will honor your reservations even if the lot appears full, but please understand that you may be asked to leave your keys with the attendant & valet your vehicle. Oversized Vehicles are discouraged and may be turned away. Make sure to show the attendants your printed reservation when you arrive.

*Please be aware that attendants are only required to stay 1 hour after an event. If keys are taken, they will be brought to the Hanna Garage at 1509 Prospect
This location is a commercial parking lot.
Nearby destinations: Quicken Loans Arena, Progressive Field, Playhouse Square, Ohio Theater, Hanna Theatre.
Directions
This lot is located on the east side of E 9th St, right across the street from its intersection with Eagle Ave. Look for the two short brick pillars on each side of the entrance, and the green booth just beyond it. There is also a Green sign with the parking rates listed at the entrance on 9th St. Enter on E 9th St.

*Please be aware that attendants are only required to stay 1 hour after an event. If keys are taken, they will be brought to the Hanna Garage at 1509 Prospect