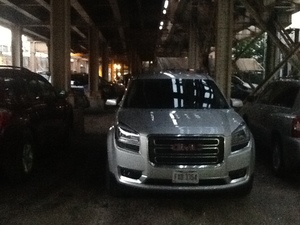 Easy Out Parking - Residence
3530 N Wilton

,

Chicago

,

IL

60657
This parking does not currently offer online bookings.
Description
GRAVEL PARKING AREA BEHIND RESIDENCE AT 3530 N WILTON. THE FIRST CAR TO ARRIVE MUST PULL IN AND PARK BETWEEN THE PILLAR SUPPORTS RUNNING UP TO THE TRAIN TRACKS (INSIDE THE CHAIN & LABELED SPOT #3). YOU WILL BE PULLED IN PARALLEL TO THE CHAIN AND APARTMENT BUILDING. YOU SHOULD PULL UP SO YOUR VEHICLE IS CENTERED BETWEEN THE FOUR PILLARS AND YOU SHOULD BE FACING A LITTLE WHITE TENT IN FONT OF YOU.

IF YOU ARE THE SECOND CAR TO ARRIVE PLEASE PARK DIRECTLY BEHIND THE FIRST CAR (LABELED SPOT #2). YOU CAN BACK IN OR PULL STRAIGHT IN BUT PLEASE BE PARKED AS PICTURED SO 2 CARS CAN PARK ON THE BUILDING SIDE AND 3 CARS WIDE CAN FIT ALLEY SIDE NEXT TO YOUR VEHICLE. ALL CARS SHOULD BE PARKED PARALLEL WITH THE ALLEY. NOBODY WILL PARK IN FRONT OF CAR IN SPOT #3 AND NOBODY WILL BE BEHIND CAR IN SPOT #2 SO ALL SPOTS ARE EASY OUT. THE THIRD CAR TO ARRIVE SHOULD THEN PARK DIRECTLY TO THE LEFT OF THE SECOND CAR CLOSEST TO THE ALLEY (LABELED #1).

IF FOR SOME REASON WE NEED TO MOVE THE CHAIN FOR THE FIRST CAR TO GET IN OR OUT PLEASE LET US KNOW.

Upon arrival, please place your ParkWhiz Parking Pass visibly on your vehicle dash. You risk being towed if the pass is not shown.

Managed by Liam's Cubs Easy Out Parking. This location is a residence.
Nearby destinations: Wrigley Field, Cubby Bear, Center on Halsted, Chicago Pride Fest, Halsted & Waveland (Chicago Pride Fest).
Directions
This is 3 spots in a large 6 car gravel parking area located behind the residence at 3530 N WILTON AVE less than one block from Wrigley Field. You can enter the alley under the El from Addison or from the south end of the alley on Cornelia. From either end, you will drive down the alley to the middle of the block behind a three flat with a fenced in yard on the EAST side of the alley. The pictures posted here should be very helpful if you are having any trouble. 1/2 block from Wrigley Field! Can't find a better location or price for parking anywhere near here!

Please call Red at 773-503-6541.