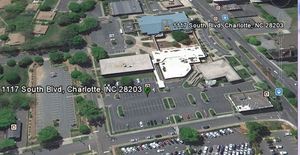 Preferred Parking Lot: Pritchard Memorial Baptist Church
1117 South Blvd.

,

Charlotte

,

NC

28203
This parking does not currently offer online bookings.
Description
The is a large surface parking location that is at Pritchard's Memorial Baptist Church. There are 2 parking lots across the street from each other on South Caldwell Street. Entrances to both locations are via South Boulevard, South Caldwell or Lexington Avenue. This location is $10 on game day!

Managed by Preferred Parking Service. This location is a business.
Nearby destinations: Amos' Southend.
Directions
This property is located off of South Boulevard (South of the 277 Loop) and South of East Morehead (Via South Caldwell St.). There are two surface lots that makeup this location. One between Templeton Avenue and Lexinton Avenue on South Caldwell (accesible from Lexington and the second between South Boulevard, Lexington and South Caldwell Streets (accessible from Lexington, Caldwell and South Boulevard). From South Blvd, turn East into the surface lot just past Pritchard's before Lexington Avenue (Only accesible from Northbound South Boulevard due to an island). From Lexington Avenue, turn south into either location adjacent south side of the S. Caldwell corner. From South Caldwell, either turn West into the first location or proceed to Lexington and turn East then south into the second location.