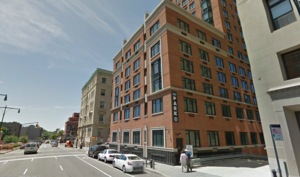 MPG Parking
52 Boerum Pl.

,

Brooklyn

,

NY

11201
Parking not available for that time. Please select a different time or try a different location.
Description
This covered parking garage is situated in the southwest corner of Downtown Brooklyn beneath the Brooklyn Law School and has a pedestrian elevator entrance on State St. Conveniently located next to the Central Court Building with easy access to the Brooklyn Queens Expy.
Vehicle height restriction: 72 inches
This location is a commercial parking garage.
Nearby destinations: MetroTech Center, Fulton Mall, La Vara, Chef's Table, Queen Italian Restaurant.
Directions
This parking garage is located on the northwest corner of State St and Boerum Pl. Enter by driving south on Boerum and turning right down the ramp just before you get to the large brick building at the intersection. Look for a black and blue "MPG PARK" sign with white lettering.

*Note: Oversize vehicle surcharge, from $10.00 to $15.00, not included.