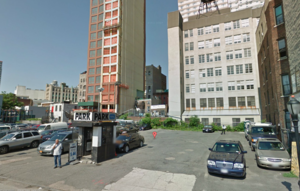 MPG Parking
408-414 Albee Sq.

,

Brooklyn

,

NY

11201
This parking does not currently offer online bookings.
Description
This open air parking lot is situated in the southeast corner of Downtown Brooklyn abutting a red and brown building on the north end. Conveniently located near several downtown businesses and 1 block west of Long Island University with easy access to Flatbrush Ave Ext.
This location is a commercial parking lot.
Nearby destinations: Jay Street – MetroTech, DeKalb Avenue, MetroTech Center, Ganso, Nicky's Vietnamese Sandwiches.
Directions
This parking lot is located on the west side of Albee Square between Willoubhby St and Fulton Mall. Driving north on Albee Sq the entrance will be on your left side. Look for a white and blue "PARK MPG" sign with black lettering.

*Note: Oversize vehicle surcharge, from $10.00 to $15.00, not included.