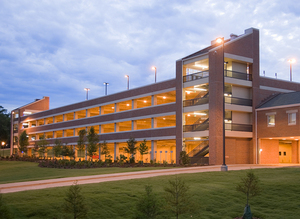 South Quad Parking Deck
330 Lem Morrison Dr

,

Auburn

,

AL

36832
This parking does not currently offer online bookings.
Description
The Multi-Modal/South Quad Parking Deck is a spacious four-story parking deck containing approximately 600 parking spaces. The deck is located three blocks south of Jordan Hare Stadium, home of the Auburn Tigers!
Vehicle height restriction: 78 inches

Managed by AAA Parking (Auburn). This location is a commercial parking lot.
Directions
The Multi-Modal/South Quad Parking Deck is located at the corner of Mell Street/Lem Morrison Drive & Duncan Drive on the Auburn University campus. The facility is located three blocks south of Jordan Hare Stadium.

From the I-85 Auburn exit, take South College Street approximately 3 miles to South Donahue Drive. Travel north on South Donahue Drive to Lem Morrison Drive/Mell Street, and turn right at the light. The South Quad Deck entrance will be approximately 800 feet ahead on the left, just past the Duncan Drive intersection.

Please note that the Multi-Modal/South Quad Parking Deck was newly constructed and finished in 2011 and is not yet shown on most online aerial maps, such as Google Maps. Please enter coordinates N3235.615, W8529.192 if using a GPS.

Lot Open Times:
Game Starts Before 12:00 pm=7:00 am
Game Starts Between 12:00 pm and 3:00 pm=8:00 am
Game Starts After 3:00 pm=9:00 am